Steven first came into contact with African art at an exhibition of objects from the Afrika Museum in Berg en Dal at the then Rotterdam International Students Club. It was love at first sight. After meetings with the then founder and curator of the museum, father Van Croonenburg who told many stories about the collection and his love of the continent, and contacts with the famous gallery owner Henk Kauw in Amsterdam, he started studying and collecting African art.
Three years later, the time had finally come: a purchasing trip at the invitation of Ger Luttik of La Perle d'Afrique to Burkina Faso, Mali and Sierra Leone. It resulted in a large amount of authentic objects, selected from a supply which at the time already consisted of fakes for 90%. From then on, he made such journeys several times a year and the meaning of the saying 'When Africa gets a hold of you, it won't let go' soon became clear.
After finishing a degree programme in Architecture – among other things – Steven worked as a social scientific researcher at an interuniversity institute. After a divorce, Kathy and Steven met. That was love at first sight, too. Their first joint trip to Dark Africa took place in 1984 and for Kathy, that was … well, you can guess.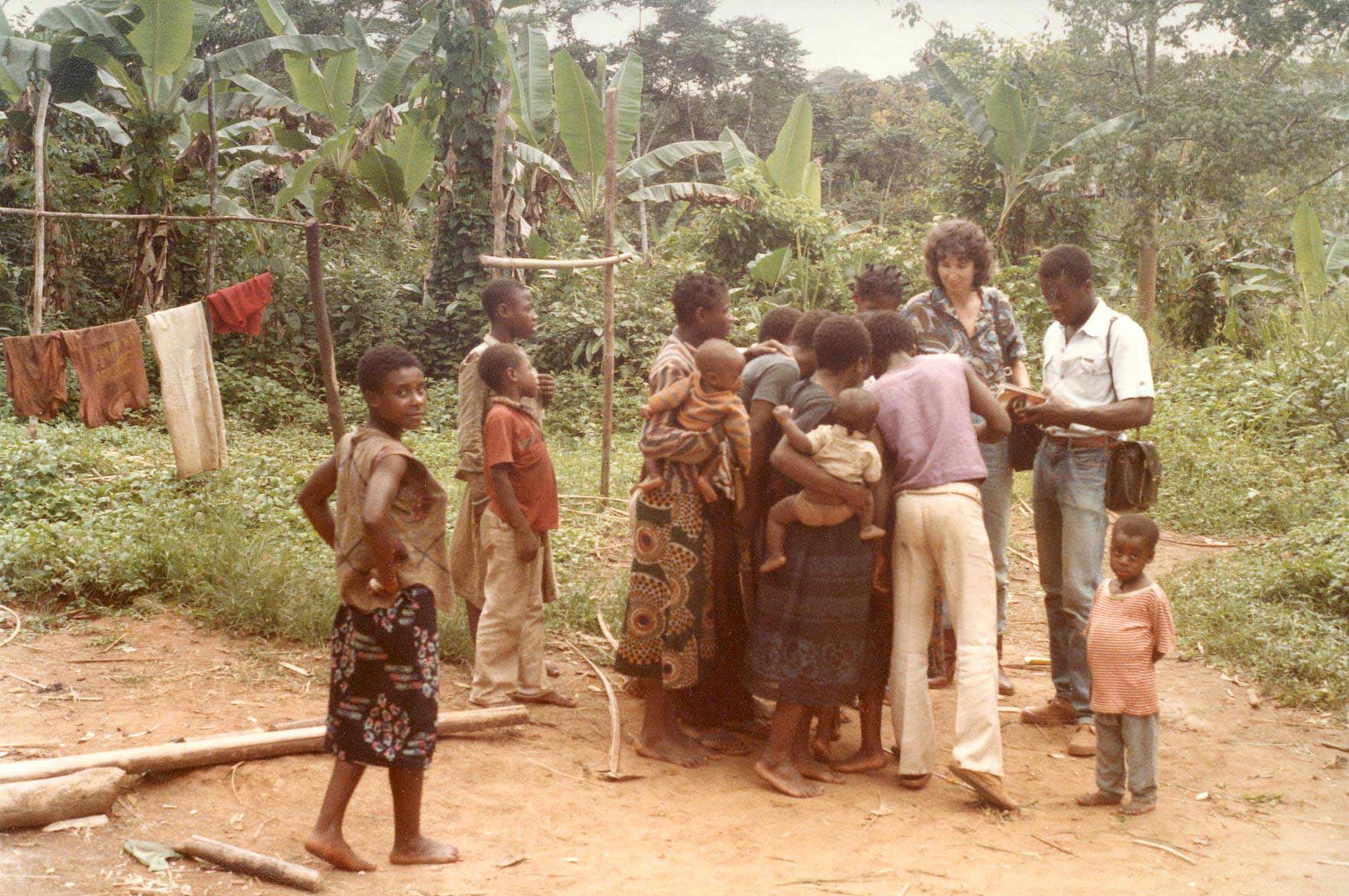 The step to owning a gallery was taken in 1990. A lot has happened since then.
Some examples of organised exhibitions:
'Art in the Bank' on the occasion of the opening of the NMB Bank Marconiplein Rotterdam
Overview exhibition 'African Art' in Emmeloord city hall
'Inspiring Kuba Textile Art from the Democratic Republic of Congo' in Galerie van Krimpen, Galerie Loerakker and the Kring in Amsterdam, at Ars Vitae in Den Haag and the Vrije Academie in Vlaardingen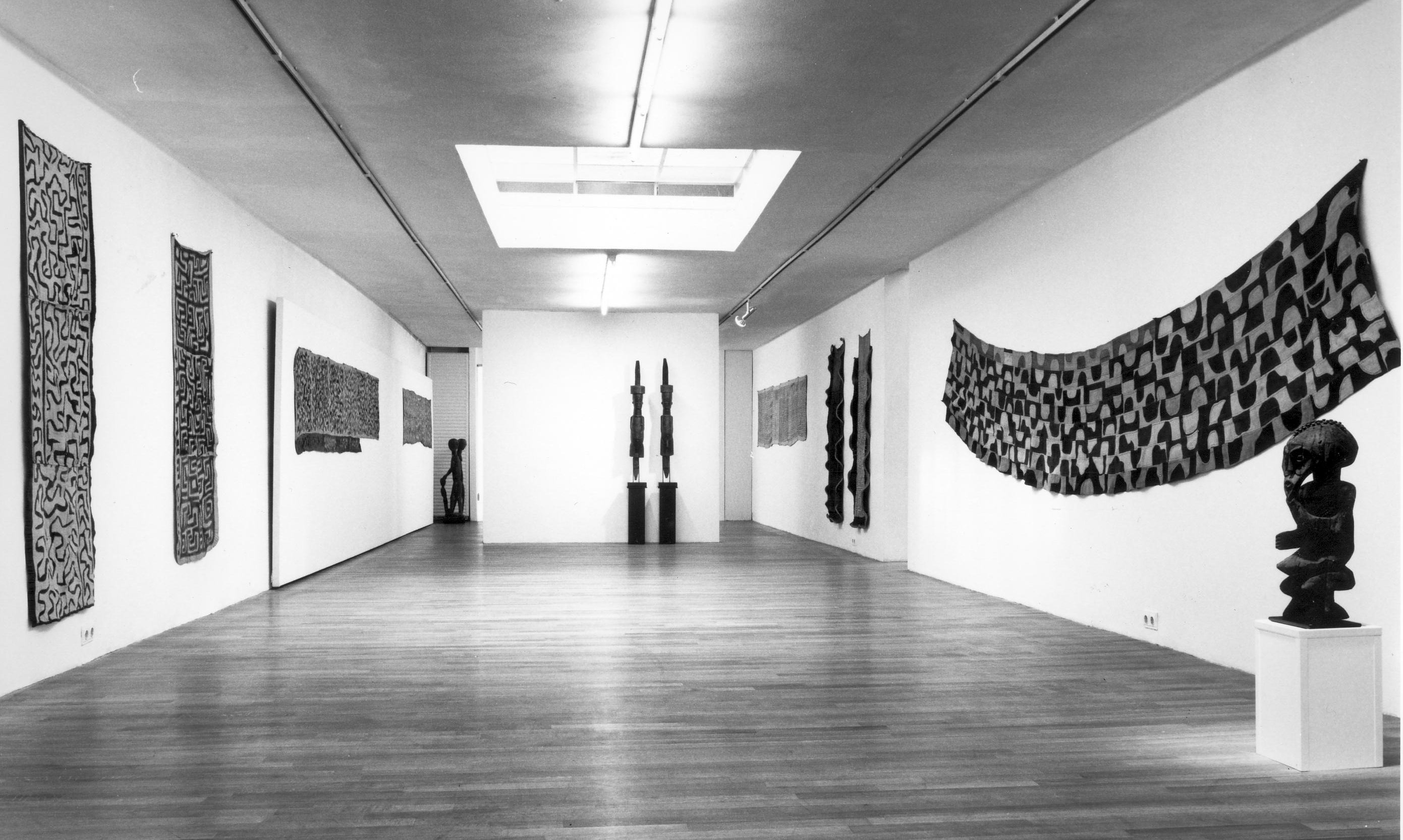 'Masks from Africa' in the Beiaard Museum in Asten
'Designs by Peter van Zoetendaal and African Art' in The Frozen Fountain in Amsterdam
'Drawings by Arie de Groot and bark paintings of pygmees' in Castle van Rhoon
'Africa meets Italy' at Ars Vitae in Den Haag
'Overview exhibition of Arie de Groot and Kuba Textile Art' in TENT. Rotterdam
Participation in the Art Fair 'Galerie '93', 'Galerie '94', 'Galerie '95' en 'Galerie '96' in the Kunsthal Rotterdam. A hall was set up with Kuba Textile Art in 1994
Participation in the KunstRAI Amsterdam since 1997
Organisation of the exhibitions in the Kunsthal 'Casting and Forging, ten centuries of metallurgical art from West Africa', 'African masks' and 'Forms of Change, ethno design from southern Africa' as a guest curator
Organisation of the exhibition 'Magical earth, ceramics from Africa' in 2001 for the Princessehof Museum in Leeuwarden as a guest curator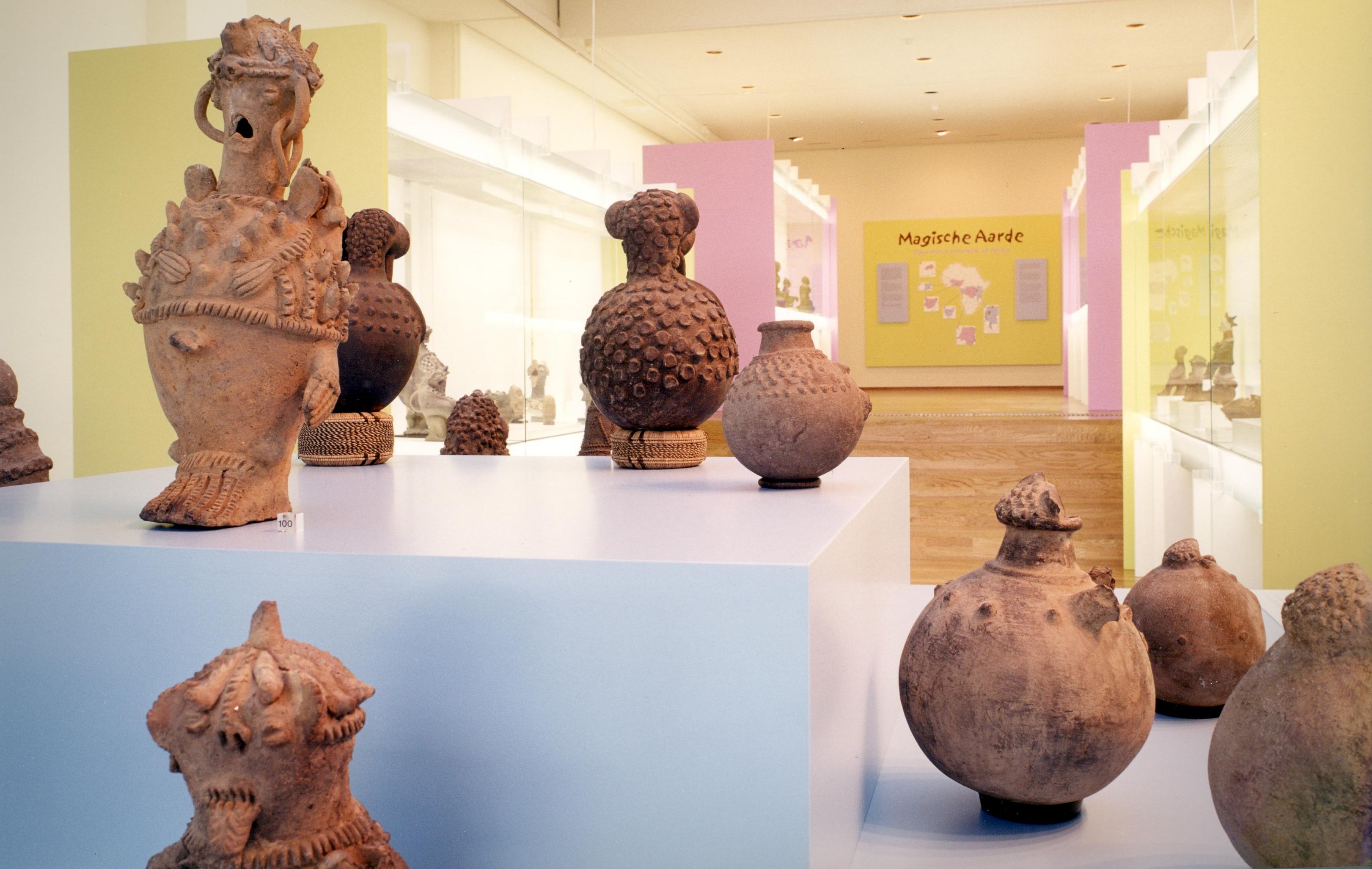 Participation in the Amsterdam Tribal & Antique Jewellery Fair since 2001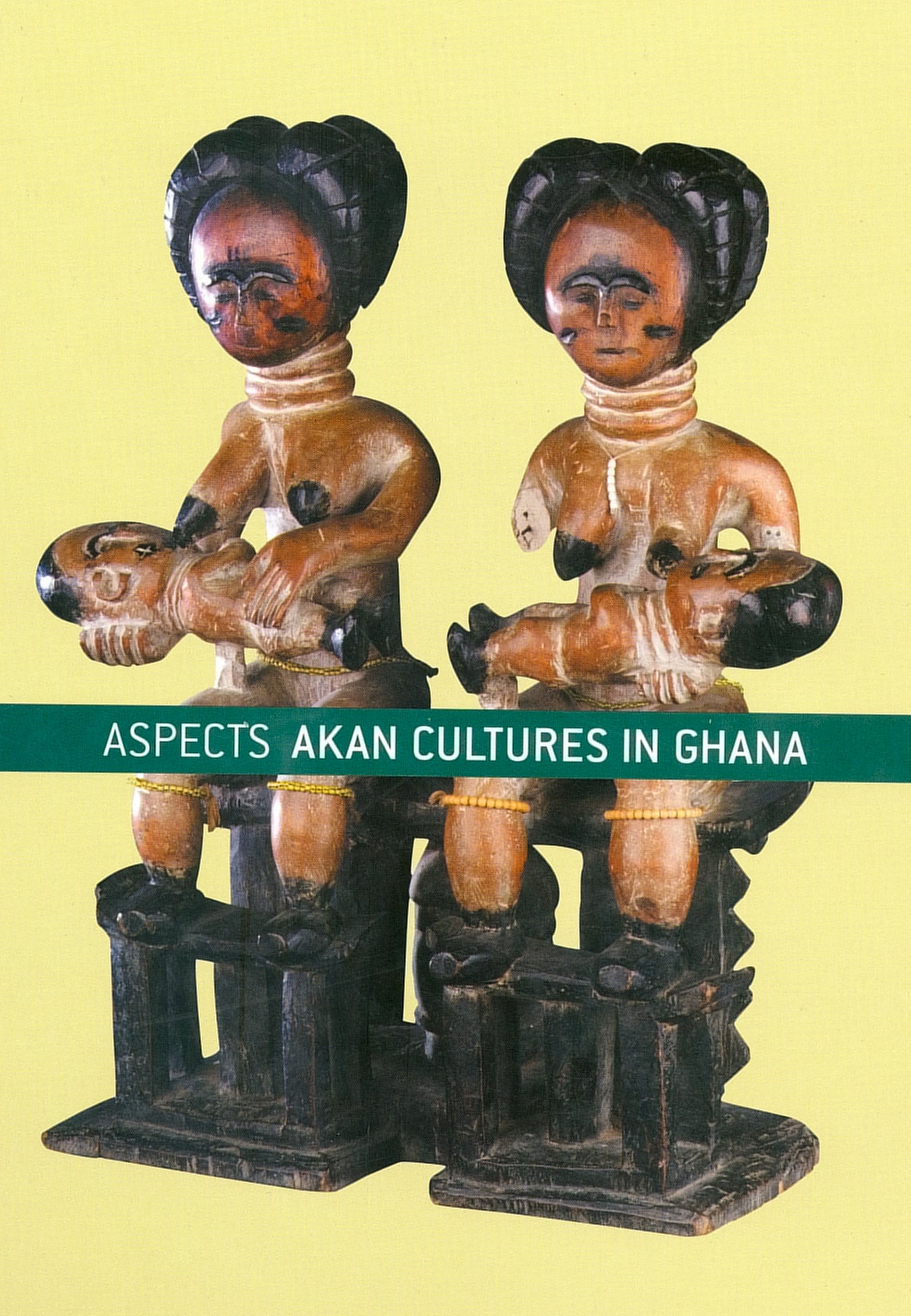 Organisation of the exhibition 'Aspects: Akan Cultures in Ghana' in the Gemeentemuseum Den Haag as a guest curator
Participation in the Lineart fair in Ghent in 2005 and 2006
'African textiles': an overview exhibition at the National Institute for Public Health and the Environment in Bilthoven and a publication of the same name
Participation in the Eurantica fair in Brussels
Participation in pAn Amsterdam
Participation in the Parcours des Mondes in Paris 2008, 2009, 2010, 2011, 2012, 2013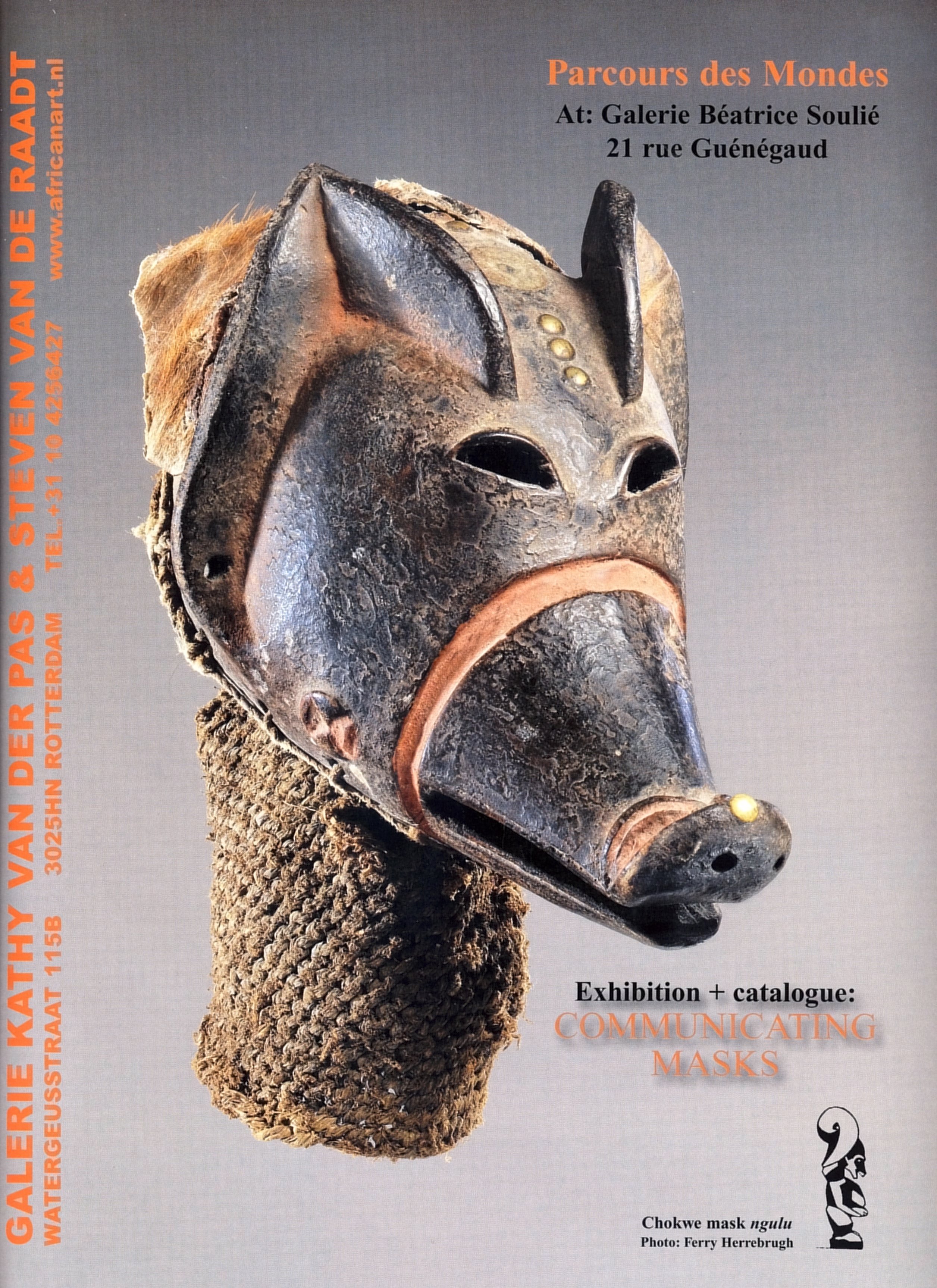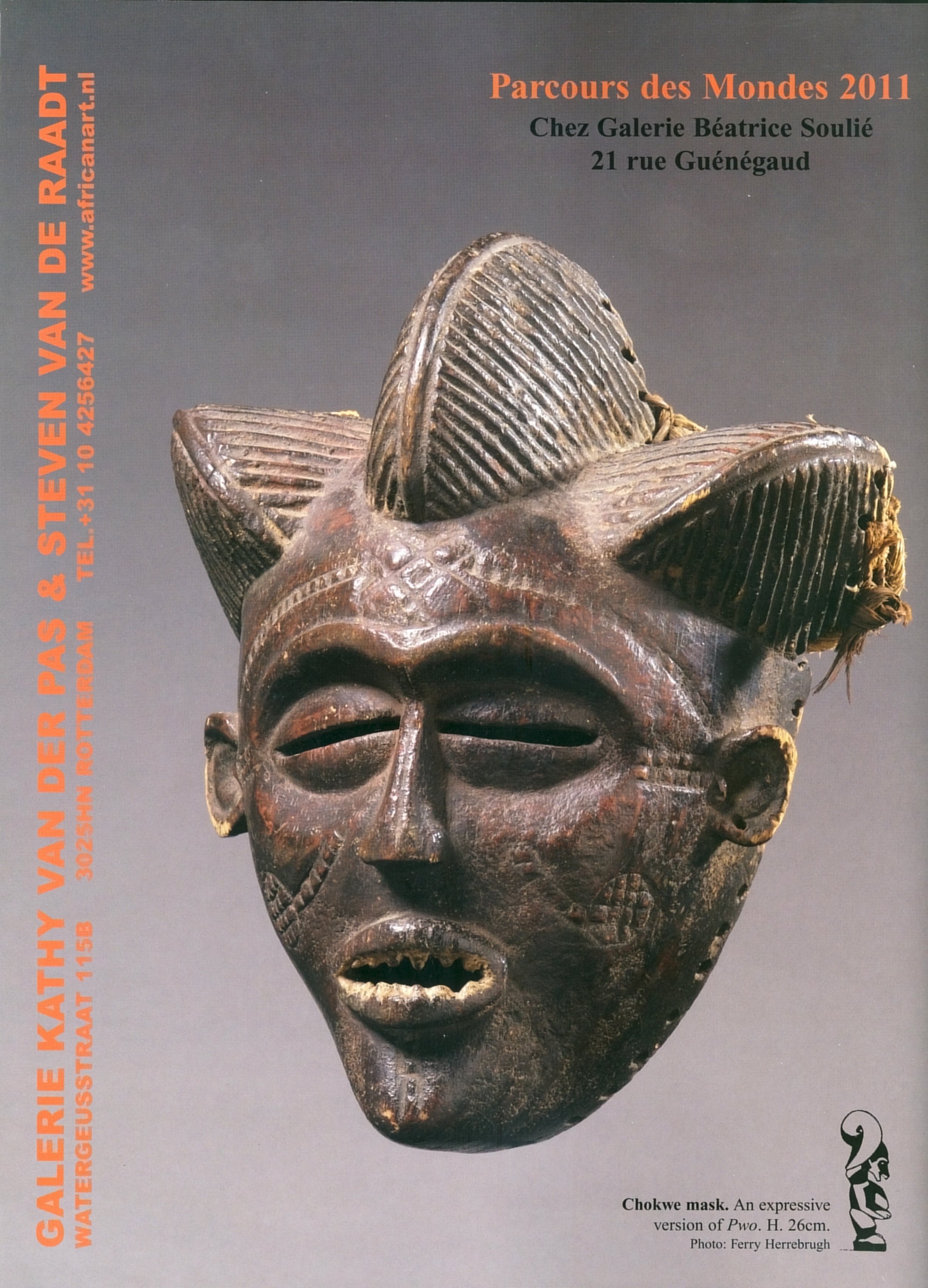 Participation in ArtAntique Utrecht 2010, 2011, 2012
Participation in Artspot Amsterdam 2011
Participation in KunstRAI 2013
African Art exhibition in Gallery BéatriceSoulié, Paris 2013
Jubilee exhibition 2015 'The standing man'
Jubilee exhibition 2015 'Ivory coast'
Thematic exhibition 2016 'Art from Nigeria'
We loaned objects for:
'Die Kunst der Senufo'. Museum fuer Voelkerkunde Berlin 1990
'Sculptuur uit Afrika en Oceanie' / 'Sculpture from Africa and Oceania'. Rijksmuseum     Kroeller-Mueller, Otterlo 1990
'Mother and child'. Afrika Museum Berg en Dal
'Africa. The Art of a Continent.' Royal Academy of Arts, London 1995
'Herbs, Health, Healers. Africa as ethnopharmacological treasury.' Afrika Museum Berg en Dal 1999
'Spuren des Regenbogens / Tracing the Rainbow. Art and Life in Southern Africa.' Oberoesterreichisches Landesmuseum Linz 2001
'Regards de marchands. La passion des arts premiers / Views of dealers.' Primedia sprl, Paris 2009
'Corneille, his world'. Stedelijk Museum Schiedam, 2018-19